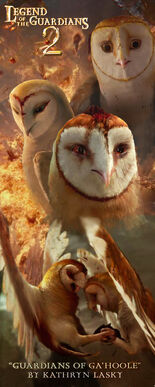 NOTE: This page is intended to act as a reference for people wondering if Legend of the Guardians will get a sequel, as well as to list and debunk unofficial sequel projects. It is not intended to describe a hypothetical movie. Feel free to share fan-made sequel concepts on the Ga'Hoole Fanon Wiki.
Legend of the Guardians 2 refers to a hypothetical sequel of the 2010 animated film Legend of the Guardians: The Owls of Ga'Hoole. A sequel has been a subject of speculation among fans since the release of the original film. Fan-made posters and fake trailers are common within the Guardians of Ga'Hoole fandom, with optimistic fans sometimes assuming they are official.
While Legend of the Guardians has amassed a small but dedicated following, as of 2021 there has been no accredited evidence that a sequel will be made. For many reason, the creation of a sequel is unlikely, but this has not stopped fans from speculating what the movie might look like, leading to rumors that a sequel is in production. Almost all outlines and cast lists relating to Legend of the Guardians sequels online are concepts created by fans.
It is likely that Animal Logic, as well as director Zack Snyder, prioritized other projects over a sequel to Legend of the Guardians, perhaps due to the franchise's niche audience and the movie's lower than desired earnings.
Animal Logic, the animation studio behind Legend of the Guardians, has since gone on to provide animation and visual effects for many other franchises, including The Lego Movie (2014), Peter Rabbit (2018), and various Avengers films (Iron Man 3, Doctor Strange, Guardians of the Galaxy Vol. 2). Legend of the Guardians was one of the first feature films in which Zack Snyder was director. He has since gone on to direct many DC franchise movies, including Batman v Superman (2016), Justice League (2017) and Wonder Woman 1984 (2020).
Sequel considerations
In an interview coinciding with the movie's release in 2010, Jim Sturgess and Ryan Kwanten expressed interest in reprising their roles as Soren and Kludd if a sequel was ever considered. However, as Sturgess and Kwanten were only associated with the movie as voice actors, they were likely not given much (if any) information on whether or not a sequel was actually being considered, and would have only been contacted if the sequel went into production.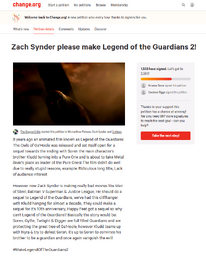 In an article by Australian marketing and media news site Mumbrella ("No Ga'Hoole Sequel on the Horizon", Miguel Gonzalez, 5 April 2011), Animal Logic CEO Zareh Nalbandian explained that "there have been no discussions between the production company and Warner Bros. to make a sequel to last year's animated 3D film Legend of the Guardians: The Owls of Ga'Hoole." Nalbandian went on to state,
"There hasn't been anything specific around a second Legend of the Guardians at this stage. We have discussions with Warner Bros. across a range of projects; we have projects in development with them, as well as projects in development outside of Warner Bros. Legend… lines up alongside all the projects we have, in terms of what's the most attractive, commercial proposition to do next,"
In other words, Nalbandian explained that Animal Logic had other projects already planned with various other companies. One "attractive" quality that helps the studio choose projects would likely be profitability. This may explain why in the wake of Legend of the Guardians, the studio would try to pursue bigger franchises, such as Lego and Avengers.
However, Nalbandian also mentioned
"It's still very early, so it could happen down the track, but not right now."
This interview was conducted in 2011. While the studio has not given a hard "no" in terms of the possibly of a Legend of the Guardians sequel, no discussions from credible news sources since 2011 have made any mention of a possible sequel.
In 2018, user The Dragon Critic started a Change.org petition titled "Zach Synder please make Legend of the Guardians 2!" in an effort to convince the director to make a sequel. Despite having over 1,500 signatures and counting, Zack Snyder has not commented on this petition.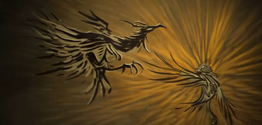 Unused movie assets
An interesting element of Legend of the Guardians' production is that a significant amount of world building elements and side characters were developed, but were either left unused or were used only in the video game.
The Legend of the Guardians video game greatly expands upon the movie universe, showing the Glauxian Brothers, Northern Kingdoms, hagsfiends, and characters such as Streak and Trader Mags, which did not appear in the final movie.
Speculation and unofficial sequels
Much speculation has arisen around the idea of a Legend of the Guardians 2, leading to mock-ups and fan art of the hypothetical sequel circulating online. However, most of these works can be traced back to fan sites and individual artists, and do not come from an official source tied to Animal Logic.
List of unofficial sequels and their origins
LEGEND OF THE GUARDIANS 2: "OFFICIAL" SEQUEL TEASER TRAILER (2012) [HD] - YouTube, 2011/07/02 - a composite fake trailer created by user Sunscribes/Michael Papadakis, using footage from other movies and unrelated sources.
Legend of the Guardians II - 2017 - DeviantArt user Noquelle has created several pieces of fan art labeled "Legend of the Guardians II", including Coryn, Kludd as Metalbeak and Nyra. The descriptions of the original posts clarify that these are unofficial fan art commissions.