This article is a stub. You can help the Guardians of Ga'Hoole Wiki by expanding it.
Martin
Description
Species:
Northern Saw-whet Owl (Aegolius acadicus)
Gender:
Male
Family
Mate:
Son:
Gemma
Justin
Book Appearances
Appears in:
The Journey, The Rescue, The Siege, The Shattering, The Burning, The Outcast, The Golden Tree, The River of Wind, Exile, The War of the Ember
Details
A member of the colliering chaw at the Great Ga'Hoole Tree, and also part of the Chaw of Chaws.
Martin is a male Northern Saw-Whet owl, or Aegolius acadicus. He is a member of the Chaw of Chaws and a guardian of the Great Ga'Hoole Tree.
History
Martin was introduced when Soren went to the Colliering Chaw. He was Soren's "chaw buddy" when they went into forest fires.
Martin continued to be Soren's "chaw buddy." As Soren, Gylfie, Twilight, Digger and Otulissa flew away to save Ezylryb, Martin and Ruby, arrived in right when the battle between Soren and Kludd started.
Martin went along with the Chaw of Chaws to St. Aegolius Academy for Orphaned Owls to see if the Pure Ones had sent spies. While been at St. Aggies, he was the speaker for the group.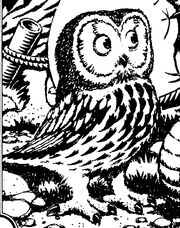 Martin went to the Northern Kingdoms along with the Chaw of Chaws to recruit allies to fight against the Pure Ones. He and Ruby were sent to find Hoke of Hock on Stormfast Island.
In the battle against the Pure Ones, Martin launched an ice splinter into Spoorn's chest, killing her.
Martin was present with the rest of the Chaw of Chaws, except Otulissa, and Cleve in the parliament chamber to hear the last words of Boron and Barran. Martin questions their statements, saying that the tales of the ember and Hoole were just stories and legends.
Coming Soon!
Martin and the Chaw of Chaws went to the Palace of Mists to talk to Bess about the Sixth Kingdom. They later went over the River of Wind to the Middle Kingdom.
It is revealed that Martin took a mate named Gemma and had a hatchling named Justin.
Coming Soon!
Trivia
He is the first Saw-whet to ever be in the Colliering Chaw.
Gallery